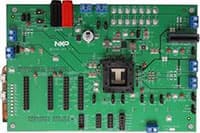 NXP's VR5510 is an automotive multi-output power management integrated circuit with a focus on Gateway, ADAS, V2X, and infotainment applications. It includes multiple high-efficiency switch-mode and linear voltage regulators. It offers external frequency synchronization input and output for optimized system EMC performance.
The VR5510 includes enhanced safety features with fail-safe output, becoming a full part of a safety-oriented system partitioning that covers both ASIL B and ASIL D safety integrity levels. It is developed in compliance with the ISO26262 standard. The device could also be configured to operate as a non-safety QM version part.
The device is developed and qualified in compliance with AEC-Q100 rev H (grade1, MSL3).
The VR5510 boards provide access to all output voltage rails as well as control and signal pins through power strip connectors. A single connector for the input power supply allows the user to supply the board with an external DC power supply to fully evaluate the performance of the device.
The evaluation board for VR5510 provides the capability to power up from the OTP fuses or in a debug mode. In debug mode, the board and GUI provide the ability to evaluate any number of configurations via the test-mode operation and the scripts generated by NXP's GUI OTP configuration tool.
Features
Power management features

One high-voltage buck converter
Three high-efficiency, low-voltage buck converters
Two low-voltage linear regulators with load switch option
One medium-voltage linear regulator
One high-voltage linear regulator with load switch option
Directly connected to a battery
Two low-power modes: standby and deep sleep

System and device features

One-time programmable (OTP) memory for flexible device configuration
High-speed I2C interface (3.4 MHz) with CRC
Proven and robust solution co-developed with a processor, BSP, and reference designs provided
External clock synchronization
Frequency spread spectrum, frequency tuning, and multi-phase operation
Safety features

Safety scalable: QM, ASILB, and ASILD
Independent monitoring circuitry and dedicated interface for processor monitoring
Simple and challenger watchdog
PGOOD, RSTB, and FS0B safety outputs
I2C CRC protection mechanism
Analog built-in self-test (ABIST) and logical built-in self-test (LBIST)
Applications
Gateways
Mid to high infotainment/eCockpit
Entry infotainment/connected radios
Front-view cameras
Surround-view
V2X communications
ADAS